BMF's Board of Directors meet Ivan Lins and talk about Brazilian Music Foundation's Music Project in US. Interview by Madalena Sousa.

After a long conversation between Ivan Lins and BMF's members, the artist has confirmed his support to the Brazilian Music Foundation's music programs and agreed to be part of the BMF's Advisory Board. Ivan asked for the community to support the project in a video testimony, which you can watch below.
In a interview, on July 23rd in New York City, where the acclaimed Pianist / Singer / Composer was performing at Blue Note, he talked about his career and listened attentively to Madalena Sousa, the founder and president of Brazilian Music Foundation (BMF), about the organization music programs being presented now and future programs in development in US and Brazil.
Ivan talked about his love for US and specially Pittsburgh, where many of his musicians who he were fans used to live. Like ….
Madalena Sousa, Ivans Lins and Vanessa Falabella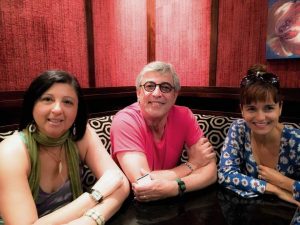 Madalena Sousa says that after receiving an email from the Blue Note, requesting support to advertise Ivan Lins' concert at the Jazz Club (BMF was referred to the Blue Note by Mrs. Beatriz Canepa Barbosa D'Alessandro from the Press and Cultural Office at the Consulate General of Brazil in New York), BMF Marketing Director, Mila Schiavo, contacted Ivan Lins' manager in Brazil and made arrangements for a meeting in NY.
The meeting went smoothly and Ivan was very impressed with the project that did not hesitate to give his support to the Foundation. He went beyond support and became part of the Artistic Advisory Board, he also wants to give lectures about Brazilian Music. The BMF board of Directors is very excited with the news that wants to share this announcement with all of you!
Ivan Lins, like BMF, shares the same thoughts and concerns, that is to promote and educate Brazilian Music in US. In Ivan Lins' words, this idea "tasted like honey". The artist also agrees, that music education is the best way to continuing advancing Brazilian Music in all parts of the world and specially US.
The Brazilian Music Foundation program offers music classes for children and adults, as well as concerts and festivals.
About Ivan Lins:
Ivan Guimarães Lins was born on June 16, 1945 in Rio de Janeiro, Brazil. Son of a Naval engineer, Ivan spent several formative years in Cambridge, Massachusetts, while his father completed graduate studies at M.I.T. Relocating to his native Brazil, Ivan earned a degree and had a career in professional sports in mind before discovering his passion and natural talent for music. Since then he has been an active and prolific performer, songwriter, and superstar of Brazilian popular music (MPB) and jazz for over 30 years.
His first hit, "Madalena," was recorded by Elis Regina in 1970. Since then he has written and performed numerous songs which have become jazz classics recorded by a who's who list of international artists including Sarah Vaughan, Ella Fitzgerald, Quincy Jones, George Benson, Manhattan Transfer, Dianne Schuur, Carmen McRae, Nancy Wilson, Eliane Elias, Patti Austin, Toots Thielmans, Take Six, Lee Ritenour, David Benoit, Mark Murphy, Dave Grusin, Sergio Mendes, and countless others.
Mention should be made of Lins' longtime composing partner, Vitor Martins. Their songs typically feature lush harmony with a distinctive jazz sensibility. Lins' status as a genius of popular song would be established if he never performed his own material. But Lins does perform, and his distinctive, penetrating range propels his every release to the top of the Brazilian charts
Read more> http://g1.globo.com/musica/blog/antonio-carlos-miguel/post/raspas-de-montreux-cds-da-vez-e-queda-de-pressao.html
Ivan Lins | Iluminados/ Vitoriosa/ Meu País/ Madalena | Instrumental SESC Brasil
Testimonial
by Madalena Sousa & Mila Schiavo
Share