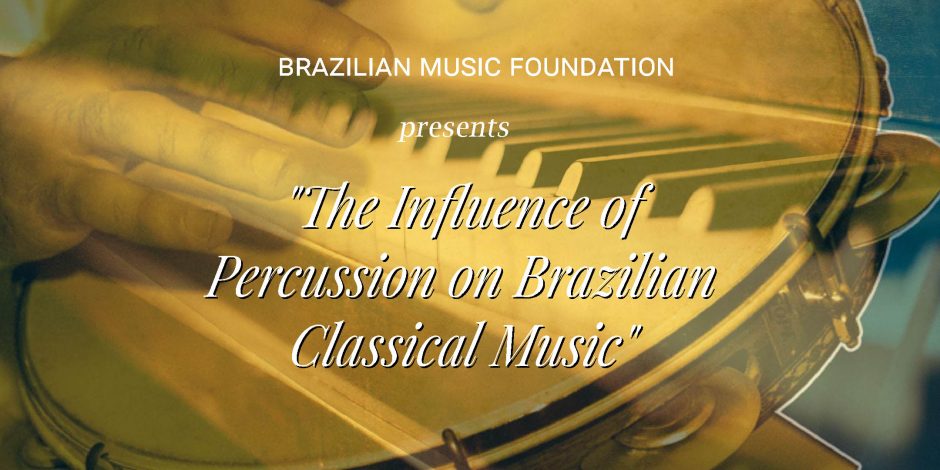 A bit of spice on Brazilian Classical Music!
We are delighted to invite you to our LIVE concert at Opera Center of America, May 21st 2023, at

6:30 PM. This is our first live concert after the Pandemic. We are pleased to continue our mission and unite musicians again to present the best of Brazilian Music.
Brazilian popular music is a kaleidoscope of rhythmic patterns which have been associated with various percussion instruments since colonial times. Classical composers have always been captivated by this rich rhythmic variety. This concert will showcase the creative ways in which classical composers used these rhythms in their works.
The Program Will Feature Works From Several Generations Of Brazilian Composers, Including Villa-Lobos, Ernesto Nazareth, Francisco Mignone, Sergio Vasconcellos-Corrêa,, Alberto Rosenblit, Ney Rosauro, Andrew Pushkare, O. Lorenzo Fernandez, Jorge Cardoso, and Gilberto Mendes.

About Musicians: Click the links for more info.
Concert Directors;
Madalena Sousa: Founder/CEO/President
Max Barros: Vice-President/Artistic Director
Cristine Larson: Secretary
Supporters:
Bossa Magazine
Asuos Productions
Fala Mais
Art Auction
Angelica Walker has graciously donated, from her personal collection, the Rita Ximenes' painting above to "The Future of Our Children Program".
BMF is committed to helping organizations that take children off the streets; help them be socially responsible, and give them the opportunity for a better life through music.
The painting will be displayed at the National Opera America Center during the event. We will hold the painting and deliver it directly to the winning bidder (+ shipping costs).
The starting bid is $500.00, and we will be accepting bids online until May 31st.

Send your bid; if you are the winner, we will send you the link for payment.
Payment can be made via PayPal, and your donation is tax deductible!
Silence in the Pantanal by Rita Ximenes, 2021
Acrylic on paper – 27.5×19,5″
Framed with white foam board for protection
What to do with the silence emanating from the gray leaves of a faded Pantanal? Through questioning this silence, Rita Ximenes provokes us and raises awareness: "the Pantanal begins inside our own homes. It is necessary not only to paint but to strengthen the environment in our daily lives." 
Silence in the Pantanal emerged from a project by Rita Ximenes with public school children in Cuiabá in 2017, which gave life to the book Vamos Começar de Novo? (Shall We Start Again?) almost like a prophecy of what would happen to the Pantanal in the fires of 2020.
About Rita Ximenes
Pantanal + Cachara + Pintado + Pincachara = Batik + woodcut + block print + Chita = .Rita Ximenes'  art in defense and preservation of the environment, especially when it comes to the sanctuary of the Brazilian fauna and flora. Born in Mato Grosso do Sul (Brazil) and residing in Cuiabá since the age of two, Rita has a degree in teaching and artistic education, with a specialty in Fine Arts. She uses ancient techniques such as Batik (Indonesia), Block Print, Repetition (Rapport or Chita), and woodcut as an art educator and as an independent artist. Her regionally strong artistic identity sparks from the stripes of the Cachara, Pintado, and Pincachara fish hides from the Brazilian Pantanal.
"As an artist, I have the mission and obligation not only to paint but to 'live my art' all out in practice."
Rita Ximenes recently launched a book together with students from the Municipal School of Basic Education, Emeb Marechal Cândido Mariano da Silva Rondon, called Let's Begin Again. Together with her students, they turn their eyes to nature and seek the sensitivity and harmony that the indigenous people have with plants, animals, land, and water.
SEND YOUR BID | MAKE YOUR DONATION!