First International Brazilian
Classical Music Festival – USA
YOUTUBE CHANNEL
BENEFIT CONCERT
FREE WITH OPTION FOR DONATIONS 
BMF's First International Festival of Brazilian Classical Music includes the participation of professional musicians from different parts of the world and consists of classical Brazilian works based on traditional genres such as maracatu, baião, ponteio, modinha, and Brazilian tango and valsa. This rich source of Brazilian culture and folklore has served as inspiration for several Brazilian composers. Their works, characterized by a variety of rhythm, melodies, harmonies, and instrumentation, offer a portrait of the Brazilian sensibility and soul, which is reflected in the wide range of the program.
The composers included in the program represent several strands of the nationalist movement in Brazil. From Chiquinha Gonzaga, Alexandre Levy, Brasílio Itiberê and Waldemar Henrique to the works of Villa-Lobos, Camargo Guarnieri, Francisco Mignone, Osvaldo Lacerda, Villani-Côrtes, Antônio Ribeiro and others. A later generation of composers (Clóvis Pereira, Ronaldo Miranda, João Guilherme Ripper, and Antonio Ribeiro) blended traditional motives with more universal compositional techniques, and the youngest generation (Lauro Lira, Kleberson Buzo) followed on the footsteps of these masters.

"The Future of Our Children" Program
 Benefit Concert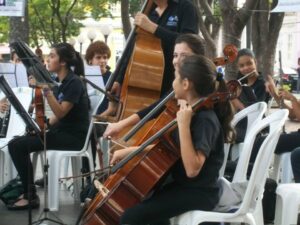 BMF's First International Festival of Brazilian Classical Music will be presented online to benefit ASSATEMEC, a non-profit organization founded in 2000 by a group of citizens from Itu, São Paulo.
About the institution:
The organization aims to provide classical music education to children and youths from low-income families, breaking the vicious circle of professional exclusion and offering them a more dignified life as citizens. All children receive a full scholarship and instruments lent by the organization.
Open to the public, with suggestions for donations. 
Beneficiary institution:
ASSATEMEC – Associação Amigos do Teatro e Escola de Música Eleazar de Carvalho, Itu, São Paulo, Brazil.
***
The Brazilian Music Foundation is a 501 (c) (3) non-profit organization, and all donations in the U.S. are tax-deductible.
Doações no Brasil
ASSATEMEC
Banco Destinatário: 033
Agência: 00065
Conta e Dígito: 0000130037764
Favorecidos: Assatemec
Nome do Banco: BANCO SANTANDER (BRASIL) S.A.
Nome da Agência: ITU
CPF/CNPJ: 3.676.461/0001-77

Produced by: Brazilian Music Foundation
Madalena Sousa Founder/President/CEO
Max Barros
Vice President /Artistic Director
Art by: Ernani Silva
Supporters: Bossa Magazine and Asuos Productions
Piano
Aida Sigharian, piano, Iran, living in Porto, Portugal
Barbara Salovich, USA living in New York
Bruno Gousset, composer, France, living in Paris
Christina Margotto, Brazil, living in Porto, Portugal
Clélia Iruzun, Brazil, living in London
Dr. Bill Budai, living in USA
Jairo Grossi, Brazil, living in Porto, Portugal
James Melo, Brazil, living in New York
Jefferson Ulbrich, Brazil, living in Curitiba, Brazil
Jorge Robaima, Spain, living in Madrid
Josiane Kevorkian, Brazil, living in Ilha de Paquetá, Rio de Janeiro
Marcos Aragoni, Brazil, living in São Paulo
Martina Graf, Brazil, living in Bruxelles
Max Barros, Brazil/USA, living in New York
Rogério Tutti, Brazil, living in New Jersey
Sonia Muniz de Carvalho, Brazil, living in São Paulo
Sonia Rubinsky, Brazil, living in Paris
Susanne Hess, USA, living in New York
Suzana Gousset, Brazil, living in Paris
Strings
Jed Barahal, cello, USA, living in Porto, Portugal
Lauro Lira, cello, Brazil, living in Porto, Portugal
Luca Kevorkian, violin, Brazil, living in North Carolina, USA
Priscila Baggio Simeoni, violin, Brazil, living in Cottbus, Germany
Rafael Cesario, cello, Brazil, living in São Paulo
Winds
Dawid Seidenberg, trombone, Germany, living in Porto, Portugal
Guilherme Andreas, flute, Brazil, living in New York
José Staneck, harmonica, Brazil, living in Rio de Janeiro
Pedro Teixeira, oboe, Portugal, living in Porto, Portugal
Voice
Angelica de la Riva, soprano, Brazil, living in Madrid
Juliana Moura, soprano, Brazil, living in USA
Marcelo Okay, tenor, Brazil, living in Vienna
Pedro Telles, baritone, Portugal, living in Porto, Portugal
Percussion
Shiqi Zhong, vibraphone, China, living in Connecticut, USA