Time: 3:00 pm to 5:00 pm
Location: S
imple Studios
Address:
134 W 29th St – 2nd Fl
Between 6th and 7th Ave.
New York, NY 10001
Instructor: Luiz Simas
Fe
e: $ 20
CASH ONLY!
$ 20 (on the day of the workshop)
PICTURE GALLERY: CLICK HERE
RETURNING STUDENTS
For those who have already taken one or two of our Singing in Portuguese workshops, I just want to let you know that on this third one we're going to repeat some of the same songs, in order to improve everyone's pronunciation. We will also have a couple of easy new songs as usual. I also want to give an opportunity to those who would like to come up front and sing one the songs to do so. I'll accompany you at the piano and offer guidance and suggestions to your pronunciation.
---
Note: In order to reserve the proper room size, we need to know the exactly number of people attending the workshop.
For that reason, we will increase the door price to encourage everyone to register ahead of time.
THANK YOU, AND WE HOPE TO SEE YOU IN OUR NEXT WORKSHOP!
WATCH PROMO VIDEO
Posted by Brazilian Music Foundation on Friday, November 20, 2015
About the workshop
Workshop details:
A two-hour workshop where participants will learn the rudiments of Brazilian Portuguese pronunciation, as well as how to sing up to 10 Brazilian songs. This workshop is open to people of all age groups, and knowledge of Portuguese is not necessary.
Luiz will start by teaching the basics of Brazilian Portuguese pronunciation, with emphasis on the pronunciation of vowels and the irregular pronunciation of some of the consonants. He will then play and sing a simple well-known Brazilian song at the keyboard and will explain in detail how to pronounce the words and sing the melody lines. He will also give both the literal and general meaning of the song's lyrics. Participants will be encouraged to sing along. He will proceed by playing and singing other songs as time allows.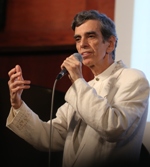 About Luiz Simas – Pianist & Composer
Luiz Simas is a singer/pianist/composer from Rio de Janeiro. He has performed and recorded with many of the top Brazilian artists. Many of his songs have been recorded in Brazil and in the US. He also composed several soundtracks for TV. Luiz Simas is also a certified Portuguese/English language interpreter who works for the New York State Court System and the Justice Department Immigration Courts. His knowledge of the Portuguese and English languages plus his skill as a teacher and communicator will serve as a great complement to his musical abilities and truly make this workshop an enjoyable and enriching experience for everyone concerned.
Testimonials
Awesome workshop! Parabens!!–Christel

Adorei cantar em Portugues ! E' uma idea fabulosa estou ansiosa para participar no proximo workshop!Parabens pelo suscesso!–Lina

Awesome workshop! Great location, great organizers, great instructor, great lesson!–Elizabeth Torres

Awesome workshop! Thank you for organizing this! It was so much fun–Kierra Foster-Ba
Contact us for more information