Amazing Musicians will be making the Choro Festival an unforgettable event!
---
---
Luiz Simas and Marilynn Mair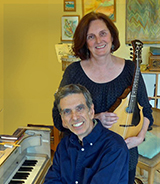 Marilynn Mair, mandolin, and Luiz Simas, piano, have been performing together since 2000. Marilynn comes from New England and a background of classical mandolin, and Luiz is from Rio de Janeiro with a background in improvisational jazz. They bonded over their love of Brazilian Choro, and been performing together, both traditional Choro and their own compositions in the Choro style, for the past 15 years.
Marilynn and Luiz perform widely as solo artists in America, Brazil, and throughout Europe, and as a Duo in New England, New York, and Rio de Janeiro. Individually, they have released many highly acclaimed CDs, and have recorded many of their original compositions as a Duo on Marilynn's CDs, Madrugada/Daybreak (2015), Meu Bandolim (2010) and Nadando em Luz/Swimming in Light (2001).
---
---
Jorge Continentino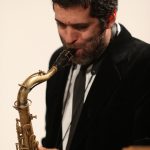 Jorge Continentino was born in Rio de Janeiro, Brazil in 1974. He started playing piano at the age of 7, then adventured in the trumpet for 3 years and found the clarinet as his passion at the age of 13. When he was 15 he started playing the saxophone and later on the flute and the pífano. "I've been mainly a professional musician and recording artist, arranger and composer, but always had private students and taught different music workshops along my journey. I love teaching and inspiring my students to learned how to research music on their own, to be curious about learning and applying what they learn in the real world of a musician and artist". In 2006 Jorge had the opportunity of teaching at UF (University of Florida, in Gainesville, FL), he taught at BMI (Brazilian Music Institute, an amazing program led by Dr. Larry Crook and Dr. Welson Tremura). Later on, on the same year he went back to teach more workshops at UF. He was called again in 2013 and 2014 to teach at UF. Jorge has done lectures and workshops at other universities, like FSU in Tallahassee, FL and schools of music in Brazil.
As a professional musician Jorge have performed and recorded with people like: Marisa Monte, Milton Nascimento, Durval Ferreira, Bebel Gilberto, Eumir Deodato, Marcos Valle, Nelson Ângelo, Duduka da Fonseka, Filó Machado, Skank, Jason Lindner, David Byrne, Stewart Copeland, Steve Earle,to name a few. Also Jorge leads his now projects, like his Brazilian Jazz and Jazz groups. Jorge is co-leader of the group Forro in the Dark with Mauro Refosco and Guilherme Monteiro.
---
---
Laura Dreyer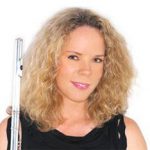 Multi-instrumentalist/composer/educator Laura Dreyer has worked with some of the finest Brazilian musicians both in Brazil and the U.S. In addition to leading her own band, she is a member of the Dom Salvador sextet, and performs with many other well-known jazz artists. She is on the faculty of Church St. School for Music and Art, The New York Pops PopsEd program, The New York Jazz Academy, and Riverdale Country School. Additionally, she has also served on the faculties of Hoff-Barthelson Music School, Cazadero Music Camp, Jazz Camp West, The Jamey Aebersold Jazz Clinics, and The Friends of Music in Busan, South Korea. Laura has presented workshops at Berklee College of Music, The Jazz Improv Convention, and The Jazz School in Berkeley, CA.
She recently recorded her 3rd Brazilian Jazz CD in Rio de Janeiro, and has received three grants from The National Endowment for the Arts in performance and professional jazz study/composition. Laura attended Berklee College of Music, and has a Bachelor of Arts degree from SUNY Empire State College.
---
---
Brendan Cowan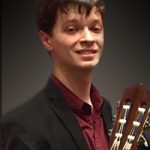 (b. 1996) is a guitarist from Staten Island, New York. He is a 2014 graduate of Tottenville High School where he was recognized with the schools award for achievement in music. Additional studies included the Summer of the Arts Institute, an arts program at the Frank Sinatra School of Art in Queens. As a classical guitarist, Mr. Cowan made his professional debut at Merkin Concert Hall in Manhattan, where he premiered a piece written by Clarice Assad. In 2016, Mr. Cowan won first place in the soloist competition hosted by the International Seminar of Guitar in Fortaleza, Brazil. The same year, Mr. Cowan also won the young soloist competition held by the XVIII Eleazar De Carvalho Festival. He is pursuing a degree in music at Purchase College, and is currently a student of guitarist and composer João Luiz.
---
---
PURCHASE CHORO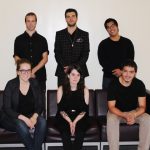 Purchase Choro is a diverse group of six musicians who study classical and jazz performance at Purchase College (NY).
With an interest in Brazilian chôro and samba, the group began studying authentic pandeiro and tamborim rhythms as well
as cavaquinho and sete cordas accompaniment.
Under the guidance of professor João Luiz (Brazil Guitar Duo), Purchase Choro developed their sound by learning classic chôros of Jacob do Bandolim, Ernesto Nazareth and Pixinguinha. The group is very excited for their debut at the
2nd International Choro Festival of New York.
Musicians:
Nora Spielman     Guitar
Andrew Latona Guitar
Alex Hamburger Flute and Voice
Claude Gilbert Cello
Angel Lau Pandeiro
Jason Wastor Tamborim
---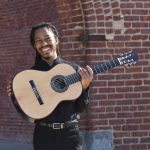 The guitarist, arranger and composer João Luiz began to play the popular music of his native Brazil professionally during his childhood and was later trained in classical guitar by his mentor Henrique Pinto. As a performer and composer João is equally at home with classical, Brazilian and world music; his solo guitar and guitar ensemble repertoire cover all the main works in the guitar literature from Dowland to Carter and Brazilian rhythms from choro to baião.
While studying with Henrique Pinto, with whom he recorded two albums as a member of the Violão Camara Trio ensemble, the Brasil Guitar Duo with Douglas Lora was born. In 2006 the Brasil Guitar Duo won the prestigious Concert Artists Guild Competition in New York, resulting in a full global touring schedule and numerous critically acclaimed recordings. For five years João also performed and recorded with the classical guitar quartet Quartenaglia, one of Brazil's most important chamber music ensembles. Musicians such as Sergio Abreu, Paulo Martelli, Fabio Zanon and Alice Artzt have also been very important in his development as a guitar player. Read more:
---
---
 Wesley Amorim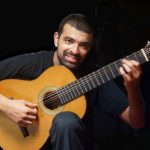 Wesley Amorim, a guitarist, composer, and arranger from São Paulo, Brazil, started his musical journey at the age of 11 years old. Graduated in music from the São Caetano do Sul Arts Foundation (FASCS),
At 17, he began playing and recording professionally using a wide range of music genres, from Brazilian to jazz, rock, pop, and gospel.
He has performed in Broadway musicals, including Jesus Christ Super Star and The Lion King, and with countless artists.
Amorim recently moved to the US and has already shared the stage with renowned artists, including Oriente Lopez, Nanny Assis, Arthur Lipner, Gene Perla, Eleanor Dubinski, Jackie Ribas, Vanessa Falabela, Itaiguara Brandão, Maurício Zottarelli, and others.
---
---
Georgios Tolis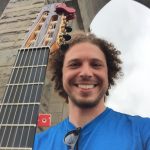 is a guitar player, who was born in the heart of Brazil Cultural State, Pernambuco, in the Beautiful Capital , Refice, which is called the " Brazilian Venice " ! Like the rivers, the Carnival, mixed with the African Roots, the frenetic Frevo and other rithms like Maracatu , Maxixe , Forro , Baião and Choro. With all that rich music environment, and the influence of guitar compositors like João Pernambuco, Garoto, Dirlemando Reis, Canhoto da Paraiba, Baden Powell, Rafael Rabelo, Villa Lobos, he started his musical studies on the guitar and he is a active guitar teacher and performer, estabileshed on NJ and NJ area since 2010.
---
---
Grant Ziolkowski

Originally from Wisconsin, Grant began playing mandolin and composing at a young age. His musical pursuits have carried him from classical music to bluegrass and jazz, and later to the diverse styles of Spain, Argentina and Brazil.
After playing Ragtime for many years, Grant became deeply inspired after hearing Brazil's analogous mandolin style in choro. He has a deep respect for the classics of Jacob do Bandolim and Ernesto Nazareth along with the jazz stylings choro novo.
---
---
Vitor Gonçalves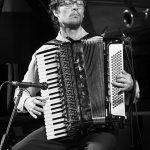 Vitor Gonçalves is a pianist, accordionist, composer and arranger from Rio de Janeiro, Brazil. After an illustrious career as an in demand musician in Brazil, playing with such icons as Hermeto Pascoal, Maria Bethânia, Itiberê Zwarg, and many others, he made the move to New York City, where he currently resides.
Since arriving here in 2012, he has garnered much acclaim and built a star lighted resume, including features in NPR's Jazz Night in America, hosted by Christian McBride, The New York Times, and Fox News. A frequent resident on the stages of Jazz at Lincoln Center, The Jazz Standard, and the Jazz Gallery, he both leads his own projects, and collaborates with figures in the New York scene such as Anat Cohen, Vinícius Cantuária, Anthony Wilson, Cyro Baptista, and others. He also has played in Jazz Festivals and venues around the world, such as Newport Jazz, Jazz à Vienne, Umbria Jazz Festival.
---
---
Luiz Ebert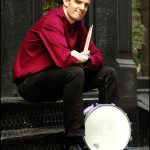 Luiz Ebert, drummer native of Brasília, Brazil, has developed a vocabulary blend of drumming with percussive sensitivity all his own. Combining idiosyncratic concepts found in jazz with traditional elements of Brazilian music, he creates an unique sonic palette that propels music in different directions.Luiz Ebert graduated Cum Laude with a Bachelors of Fine Arts degree from the City College of New York, studying under John Pattittucci and Adam Cruz. He also holds a Masters of Fine Arts in Jazz performance from Aaron Copeland School of Music at Queens College CUNY, where he studied with prestigious Jazz educators Michael Phillip Mossman, Antonio Hart, David Berkman, and had private lessons with Jazz great Billy Hart. In addition, Mr. Ebert has performed alongside an array of promising, new jazz artists that include Matt Miller, Ryan Brennan, Kyla Roscovich, Matt Turowsky and Chris Talio, to name a few.
---
---
Vanessa Falabella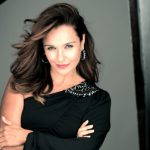 Brazilian vocalist Vanessa Falabella has a repertoire as great as her charm and charisma, singing everything from traditional samba and bossa nova, to jazz, MPB (Brazilian popular music), soul, and R&B.he has performed at New York's top venues including SOB's, Town Hall, The Supper Club, Cafe Wha, Joe's Pub, and Zinc Bar. She has performed and recorded with Marcus Viana, Cyro Baptista, The Rain Forest Band, César Camargo Mariano, Sadao Watanabe, Gato Barbieri, Hiram Bullock, among others. She opened for Bob Dylan's Brazilian Tour, performed at the Taste of Jazz Festival in Miami, and has traveled the world as a featured performer. In Brazil, she has recorded soundtracks for some of the famous Brazilian television "novelas" as well as commercials including a Brazilian presidential campaign.
---
---
Jacare Choro
Special showing at Kaufman School library as well as to youtube and facebook (social media) and advertise it as a special "Night of Choro" celebrating Brazil's instrumental music.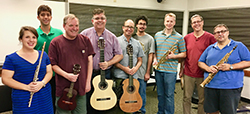 FU – Florida University Faculty and students
Instrumental ensemble at the School of Music, University of Florida) combines plucked strings (guitars and cavaquinho), winds (flute, trumpet, french horn, saxophone), piano, and percussion (pandeiro).The performance includes a brief introduction of each music by Welson Tremura & Jacare Choro.
read more about this streaming
---
---