Coming up March 7th – 8PM
Classical Music Concert Series – 2020
Clélia Iruzun – Solo Piano Recital
A Tribute to Alberto Nepomuceno with a pinch of Beethoven
With her unique combination of a colorful Brazilian spirit and profound musicianship, the London-based pianist Clélia Iruzun has become one of the most exciting musicians to arrive on the international concert scene in recent years. Clélia initially studied at the School of Music at the Federal University of Rio de Janeiro and later at the Royal Academy of Music in London, where she won several notable prizes in international competitions before graduating with the Academy's Recital Diploma. Clélia subsequently worked with a number of greatly-admired virtuosos, including Nelson Freire, Jacques Klein, Stephen Kovacevich and Fou Ts'Ong, and most particularly with the highly distinguished Brazilian pianist and pedagogue Mercês de Silva Telles in Paris. Notable Brazilian composers, including Francisco Mignone, Arnaldo Rebello and Marlos Nobre, have dedicated works to Clélia, including – most recently – Beethoven Cunha and Alexandre Rachid.
PURCHASE TICKETS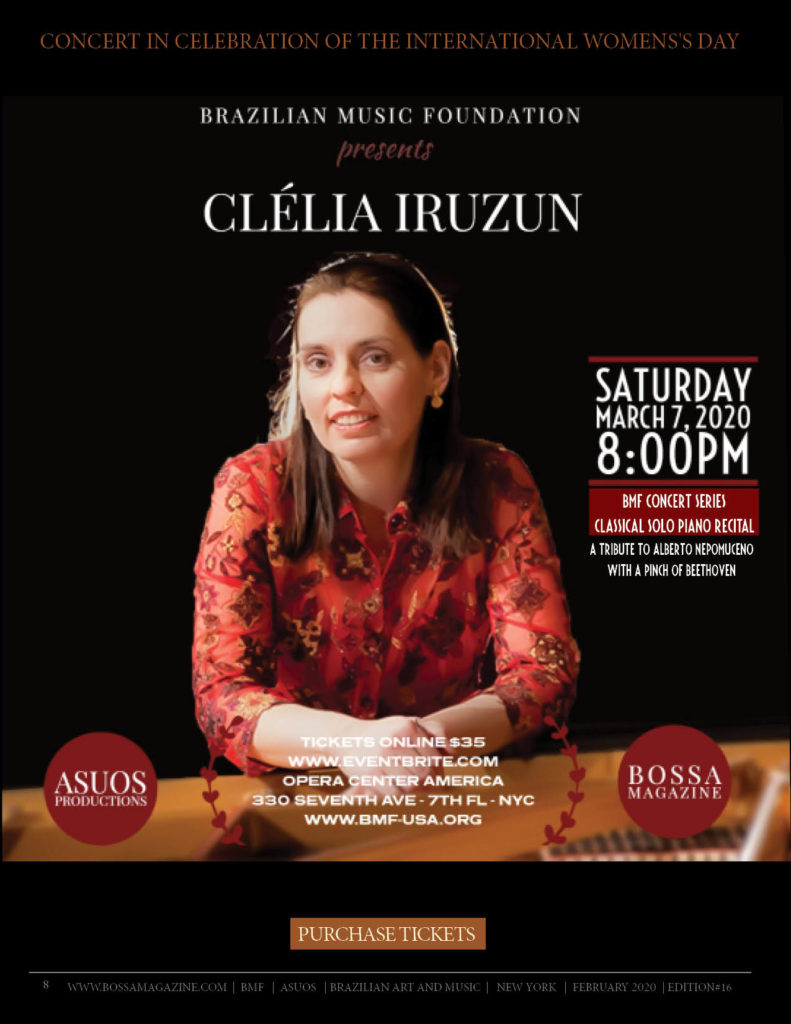 By attending one of our concerts you will not only enjoy the best of Brazilian Music but you will also be helping many organizations to remove children off the streets, helping them being socially responsible, and giving them the opportunity for a better life through music.
BMF supports music educational projects in New York and the surrounding area, as well as projects being developed in Brazil and in other countries such as "Orquestrando a Vida".