"THE SOUNDS OF CHORO IN THE CITY OF JAZZ"
   From November 9th to 12th, 2017
Opening Concert – Nov. 10th, @ 8 PM

Creating a culture of support and collaboration through music!
---
Classical Meets Popular
From November 9-12th 2017, those who appreciate the genuine sound of Brazilian instrumental music will have the opportunity to enjoy the 3rd Annual "International Choro Festival" in the City of New York. Choro music is roots jazz from Brazil and considered Brazil's first "urban pop" music. In this unique show, you will experience a wide range of pieces by many of Brazil's important 20th-century composers, including Pixinguinha, Jacob do Bandolim, Paulinho da Viola, Orlando Silveira, and much more.
The Brazilian Music Foundation (BMF), in partnership with Asuos Productions, will present the III Annual International Choro Festival (ChoroFest), with a variety of interesting performances. The Festival collaborators aim to involve different cultures in an exchange of artistic talents between the U.S. and Brazil.
The Choro Festival in NYC aims to preserve and share the Choro (Crying), considered one of the oldest gender and rich instrumental music from Brazil. This style of music has been presented since the nineteenth century in all regions of the country.
---
CHOROFEST – SCHEDULE 
Click on the date for more detail information about each event
---
Paths of Brazilian Music
"Veredas da Música Brasileira"
Lecture & Performance
Nelson Latif/Cavaquinho, Pereira Lima/Alto Sax & Mathias Pinto/Acoustic Guitar
Open for general public  – Click on the date for more info.
---
Choro Festival Opening Concert
Performance by BMF Choro Collective String Orchestra,  Sexteto Gaucho & Special Guests
@ Baruch Performing Arts Center – Engelman Recital Hall 55 Lexington Ave. ( Btw 24th/25th St) – New York City
---

"Roots of Choro Music"  – Workshop/Performance
By Sexteto Gaucho
Fee: $ 15 suggested donation
Location: 4 W 43rd St #415, New York City
---
Note: (All proceeds will go to Brazilian Music Foundation)
BMF is a 501(c)(3) nonprofit organization
Fundraiser for the Brazilian Music Foundation, a non-profit organization promoting 
Brazilian culture and music via educational and performance programs.
---
 
About the musicians:
As of 2016-2017, Eric Kramer became music director of the New York Symphonic Arts Ensemble. He remains assistant conductor with Bronx Opera, where he regularly conducts opening night performances. He also officially remains music director of Collegium Westchester, which he  conducted regularly from 2000 to 2014 in performances of orchestral and choral/orchestral works from the  Baroque through the current day.
Max Barros, Pianist Hailed by the critics for his elegant playing (The New York Times) and for his unfaltering brio (Gramophone), Max Barros has won wide acclaim as one of South America's foremost pianists. Born in California and raised in Brazil, Mr. Barros was presented with the "Soloist of the Year" Award (1985) by the São Paulo Music Critics Association for his performance of Brahms' Piano Concerto in D  minor with the São Paulo Symphony Orchestra.
Alberto Rosenblit  is a pianist and composer, well-known for writing scores for soap operas and    mini-series for Globo TV in Brazil. His original scores were released in CDS by Som Livre label in 2005 for the soap-opera "A Favorita", and in 2008 for the mini-series "Mad Maria". In 2013 the artist released through Som Livre "label" the album "Mata Atlântica". The album features a great number of talented musicians and friends celebrating Rosenblit's work.  For the past 30 years, Alberto is one of the main contributors of Brazil's major TV network. Rede Globo.

Polly Ferman is an Uruguayan born, New York based pianist, and a leading interpreter of the music of the Americas. She captivates audiences with outstanding performances of works by Latin American composers.  Recognized by The Japan Times as "a Musical Ambassador of the Americas", Ferman's numerous recordings constitute one of the most extensive collections of Latin American repertoires for piano.

Lucian Krolow (Flute) – Natural of the city of Pelotas(Brasil) where it was formed Bachelor in Flute Transversal by Ufpel. He is currently professor of the Choro Workshop at Santander Cultural in Porto Alegre developing the language of Choro with Flute players in general.
Rodrigo Botter Maio, alto and soprano saxophones, flutes, voice, composition, and arrangement. As a young guy he played in Brazil with big names of the Bossa Nova and MPB, like Alide Costa, Gilberto Gil, Hermeto Pascoal and many other. In 1987 he left Brazil to study in Austria, Rome, and Boston at Berklee College of Music. He presently lives In Zurich- Switzerland.His trademark is always the high quality of the music and he avoid any kind of commercial music.
Alexandre Susin/Cavaquinho/Singer, Cavaquinho player and composer, he works on several projects related to choro and samba in Porto Alegre. Since the beginning of the year, he is a teacher in the voice-choir classes at the Oficina de Choro Santander Cultural.

Guilherme Sanches/Percussion – Born in Porto Alegre (RS), he began his musical activities in 1997, performing in the music festivals of the state of Rio Grande do Sul. He has accompanied many Brazilian artists such as Déo Rian, Ademilde Fonseca, Jorginho do Pandeiro, Avendano Júnior, Plauto Cruz, Darcy Alves, Luciana Rabello, Nilze Carvalho, Ronaldo do Bandolim, Moacir Luz, João de Almeida Neto.

Johannes Fend is an aspiring young Bass player, born in Austria. He started music with Cello around the age of 6 and from there found his way to the electric and then Double Bass, which became his passion. He moved to the Netherlands to study jazz and classical Double Bass at the Prins Claus Conservatory. He recently won the 2nd price at the Il sole In Cantina Music award 2016 with his solo project, 1st price at Leiden Jazz Award 2017 with "Marco Apicella Trio " and the price for the best solist at the Erasmus Jazz Price 2017.

Rafael Pereira Lima / Alto Sax – Rafael is a Brazilian Samba Jazz Saxophonist specialized in Choro music. He got his Masters in Jazz Performance (Netherlands/NYC) at the University of Hanze. For two years was professor of saxophone and improvisation the Federal University of Brazil and has performed with many important artists including Hermeto Pascoal. In USA, he played with the MCC Jazz Big Band. By the a ge of 24 years old got his classical Saxophone Bachelor degree from Institute of Arts of UFRGS/Brazil. Today Rafael is living in Rotterdam.
Nelson Latif/ Cavaquinho and acoustic guitar player.Nelson Latif formed his musical identity in the legendary jazz scene of 1980's São Paulo. With roots in choro and jazz, Latif merges Brazilian guitar technique with diverse musicalinfluences. As sociologist and cultural promoter, Nelson Latif has been coordinating educational projects for universities and cultural institutions around the world.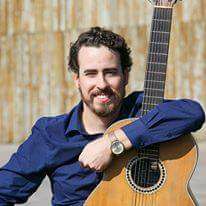 Mathias Behrends Pinto / Acc. Guitar
Born in Porto Alegre(Brazil) is the current coordinator of the Choro Santander Cultural Workshop, graduated in music from Instituto Porto Alegre, composer, guitar player and arranger working on several projects related to Choro language.
Brazilian vocalist Vanessa Falabella has a repertoire as great as her charm and charisma, singing everything from traditional samba and bossa nova, to jazz, MPB (Brazilian popular music), soul, and R&B.he has performed at New York's top venues including SOB's, Town Hall, The Supper Club, Cafe Wha, Joe's Pub, and Zinc Bar. She has performed and recorded with Marcus Viana, Cyro Baptista, The Rain Forest Band, César Camargo Mariano, Sadao Watanabe, Gato Barbieri, Hiram Bullock, among others.
Madalena Sousa/ Founder and Chief Executive  Director of Brazilian Music Foundation (BMF) and president of Asuos Productions, Inc. For the past 15 years, she has produced and promoted the Brazilian Music in the city of New York. She created music  programs and concerts to promote and educate the public about Brazilian Music, its rhythms and styles. In 2015 she  created the  International Choro Festival. "The foundation was created to support cultural  projects, educate, develop, and preserve the roots of Brazilian Music."
---
The festival was created by the Founder and Chief Executive Director of Brazilian Music Foundation, Miss Madalena Sousa, to promote Choro and teach Brazilian music in New York City. The festival was first presented in August 2015, received with great enthusiasm. Due to this positive reception, it will now continue as an annual presentation. The event will provide the opportunity for everyone to learn about one of the oldest Brazilian musical styles, the Choro. Every year the Festival gets more attention from local residents and Choro musicians worldwide, and it is expected that in a few years it will become very popular in New York City.
---
---
   

Since 2006, PAMAR has presented the annual Latin American Culture Week (LACW) with the aim of bringing the richness and diversity of the various Latin American cultures to the general public.
---
About Choro Music:
The Brazilian musical style of Choro represents the coming together of European melodic and harmonic traditions with African rhythms and sensibilities. Emerging in Brazil in the middle of the nineteenth century, Choro is a cousin of jazz, with a sense of yearning that is often described as a "sweet lament." Many ethnomusicologists believe that the name Choro comes from the Portuguese verb chorar—that is, to weep or to cry. It often seems bright and happy on the surface, but if you dig deeper you'll find a kind of sadness, a longing that Brazilians call saudade. Something about the combination of Portuguese and Italian influences resulted in melodies with a strong romantic feeling. When joined with its African influences, Choro has an irresistible groove and rhythmic momentum that is uniquely Brazilian.
Read more about Choro: https://www.choromusic.com
---
Sponsors/Supporters
---