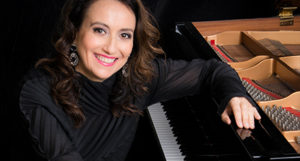 Latin GRAMMY® Award winner, singled out as the "Best Recital of the Year" by the Association of Art Critics of São Paulo, winner of Juilliard School's William Petschek Piano Recital Award and the First Prize of the International Artists of New York, the pianist Sonia Rubinsky stands out for her poetic and powerful style.
Born in Brazil, Sonia Rubinsky began her musical studies at the Campinas Conservatory of Music with Olga Rizzardo Normanha. A child prodigy, she gave her first recital at the age of six and, at the age of 12, she performed as a soloist with an orchestra. She then went to study in Israel at the Rubin Academy in Jerusalem (now "The Jerusalem Academy of Music and Dance"). At the age of 16, she was invited to play in the movie "Arthur Rubinstein in Israel" where she was praised for her temperament. Sonia Rubinsky received her Doctor of Arts Degree from The Juilliard School in New York. She has appeared as a recitalist in many of the most prestigious concert halls in the world like Carnegie Hall (Stern/Perelman Stage, Weill Recital Hall), Alice Tully Hall, Bargemusic, Merkin Concert Hall, Miller Theater, Hertz Hall in the United States, Maison de Radio France in Paris (Salle Olivier Messiaen), Sala São Paulo and Teatro Municipal de São Paulo in Brazil, Recanati Hall in Israel and AGA-Zaal in Netherlands.  She has also performed as a guest soloist with various groups such as St. Luke's Orchestra, Orchestre de St. Etienne, the New York Women's Ensemble, the Richmond, Springfield, Syracuse, Jacksonville, Cheyenne, and Phoenix Orchestras, the Jerusalem Symphony Orchestra, the Symphony Orchestra of São Paulo (OSESP), the Symphony Orchestra of the University of São Paulo (OSUSP), the Teatro Municipal de São Paulo Orchestra and the Teatro Municipal do Rio de Janeiro Orchestra.
Her discography includes 15 solo recordings, several chamber music and soloist recordings with works by Bach, Debussy, Messiaen, Scarlatti, Mozart, Mendelssohn, Almeida Prado, Jorge Liderman, Gabriela Lena Frank and Villa-Lobos. For the latter composer,over twelve years of research in close collaboration with the Museum Villa-Lobos in Rio de Janeiro and consultation with manuscripts in different countries, has made the recording of his entire works for solo piano possible in eight volumes, with several world premieres. The first volume of this collection was selected in 1999 by Gramophone magazine to be among the "Five Best Piano Recordings" and was nominated for the GRAMMY ® Awards. The fifth was selected as Editor's Choice by the same magazine in October 2006. The eighth and final volume, which concludes the series, earned her the award for the "Best Recording of the Year" at the Latin GRAMMY ® Awards 2009. During the last years, she was honored three times with the major awards for classical music in Brazil: The "Carlos Gomes Prize" for "Pianist of the Year" in 2006 and "Instrumentalist of the Year" in 2009 and 2012.
Her accomplishments include a concert as soloist with orchestra at Carnegie Hall; a music collaboration with New Yorker pianist and conductor Murray Perahia who nominated her as Artist-in-Residence at the Edward Aldwell International Center for Piano Performance and Musicianship in Jerusalem. She recently recorded Bach CDs entitled Magna Sequentia I and II which will soon be released by Naxos. Additional tracks of Bach's music will be available as a Playlist. She presented a critically acclaimed world premiere of Villa-Lobos' Brazilian Suite for piano and orchestra with the Philharmonic Orchestra of Minas Gerais. She played the world premiere of Leopold Kozeluch's piano concerto dedicated to his pupil, the Empress Leopoldina (Austrian-born, married to D. Pedro I).
Rubinsky's remarkable interpretative gift ranges from the Baroque to the music of today. The composer Almeida Prado dedicated several of his works to her: "Cartas Celestes XII" (2000) , "Três Croquis de Israel", "20 Flashed de Jerusalem". His "Sonata for Cello and Piano" (2004) was commissioned and dedicated to Sonia Rubinsky and the renowned cellist Antonio Meneses. Solo and chamber recordings of works by Gabriela Lena Frank, John Adams, Jorge Liderman and Patrick Zimmerli have received rave reviews.
Among the musicians who helped shape Rubinsky's artistry are: Jacob Lateiner, Gina Bachauer, Claude Frank, Leon Fleisher, Benjamin Oren, William Daghlian, Irma Wolpe, Vlado Perlemuter, Arthur Rubinstein and Murray Perahia.
"… deep and refined pianist (…). Her Mozart is articulate, clear and not less expressive than Perahia's or Uchida's. Her Scarlatti demonstrates a majestic tone control. Like her compatriots, such as Guiomar Novaes yesterday and Nelson Freire today, she has an extraordinary colourful sound that makes her a perfect interpreter of Debussy and Messiaen. Her recent interpretation of Songs Without Words by Mendelssohn (Algol release) dazzles by its ability to hold the line without wavering, and by its ability to characterise and balance each of the 48 Songs between classicism and romanticism – a victory in itself"
Eric Dahan, Libération ("Le piano rare de Sonia Rubinsky ")
"… visceral impact and virtuoso excitement… top speed… tireless nervous energy… an unusual degree of power and accuracy… brilliant sonorities… lyricism… splendid fiery energy…"
Will Crutchfield, The New York Times
"Rubinsky's tone is crystalline, her marksmanship unerring. She phrases flexibly and ornaments freely but tastefully. But she earns her place among the piano masters of Mozart (Perahia, Uchida and Brendel, to name some names) because she knows how to differentiate Mozart's consonants from his vowels – playing rhythmically with a percussive edge and lyrically with a fluidity that makes the listener forget the piano makes sounds when hammers strike strings."
Clarke Bustard, The Richmond Times-Dispatch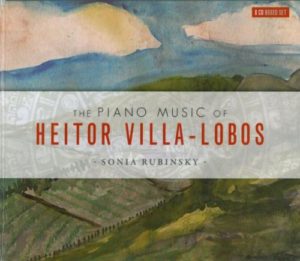 The Complete Piano Music of Heitor Villa-Lobos, Sonia Rubinsky – Box Set
Sonia Rubinsky's musicianship and pianism merge as one with the Villa-Lobos' free-wheeling and far-ranging creativity. Her superb technique, wide array of tone color, scholarship without pedanticism and innate sense of style breathe new and vibrant life into every nook and cranny of this repertoire. In all, a Villa-Lobos piano cycle destined to become the reference version.
PURCHASE CD USING AMAZON SMILES
Learn more about Sonia Rubinsky at Bossa Magazine.
https://bmf-usa.org/bossa-magazine-edition13/
BMF CLASSICAL MUSIC CONCERT SERIES -2019
Brazilian Music Foundation has the pleasure to present the 2009 Latin GRAMMY® Award winner 
Sonia Rubinsky, as part of BMF's Classical Music Concert Series – 2019.
This program is part of the commemoration of the 60th anniversary of Villa-Lobos' death.
Sonia Rubinsky is performing an all Villa-Lobos recital .
Having recorded the complete works for piano of Villa-Lobos for NAXOS, Sonia Rubinsky was 
singled out as the "Best Recital of the Year" by the Association of Art Critics of São Paulo, 
winner of Juilliard School's William Petschek Piano Recital Award and the First Prize
 of the International Artists of New York, the pianist Sonia Rubinsky stands out for her 
poetic and powerful style.

The Brazilian Music Foundation is an affiliate of Amazon Smile.
Whenever you place an order through Amazon.com, click on this link and
select the Brazilian Music Foundation as your designated charity.
BMF will then receive a percentage of the value of your purchase as a donation!
BMF Press: