A legend of Brazilian Music  – Born on February 7, 1901 – She would be 114 years old today!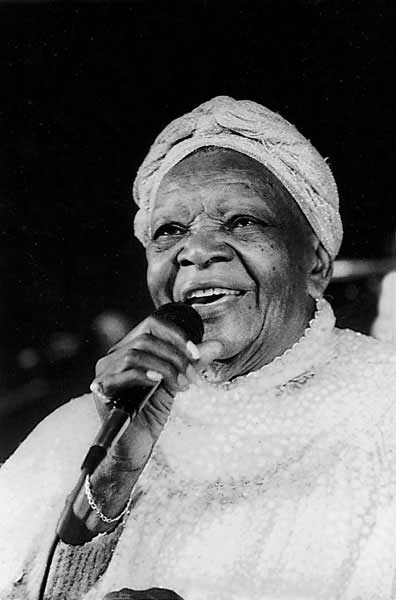 In 2016 Brazil will be celebrating 100 years of samba, this great music style well known all over the world. In 1916, Pelo Telefone by Ernesto dos Santos and Mauro de Almeida was the first recorded samba. During this whole year BMF will pay tribute to great samba artists.
Clementina de Jesus ​​was born in the Carambita community, of Valencia, Rio de Janeiro, on February 7, 1902 (1). While still a young girl, she accompanied her mother, with the task of lighting her pipe, washing clothes, smoked. While washing, mother Amélia sanglundus, jongos, corimas, modas, incelenças, pontos, chulas and cantos de trabalho(work songs), that her daughter kept in her memory and would record 50 years later. She moved with her family to the capital city at eight years of age to the neighborhood of Oswaldo Cruz. There she has closely followed the emergence and development of the Portela Samba School.
A diamond in the rough. This is how one could define this singer that began her professional career at 48 years of age, having worked for over twenty years as a maid in the house of the same family who liked to listen to her as she washed, ironed or prepared food, with the exception of the lady of the house who said her voice irritated her like a cat meowing. Her hoarse, almost spoken song was outside of any aesthetic standard and to this day without any parallel among Brazilian singers. Soulmates, not for the repertoire but by the wild manner and the way of integrating voice and body, which freed themselves with all kinds of dance, she can be compared to African-American singers like Bessie Smith.
In this way African ancestry allowed her to establish a bridge of the rich folklore of the terreiros (2) with urban and contemporary language. Clementina was the portrait of Brazilian syncretism. From the prayers in gêge e nagô and songs in Yoruba that she heard from her mother and Catholic hymns that she sang in the church choir; from the points of (Afro-Brazilian religion) Candomblé and sambas de roda (3) of the parties in which she participated. This wonderful Afro-Brazilian also performed in Africa and Europe. She even sang the Marseillaise, the French national anthem in France itself. She didn't sell a lot of albums and as music critic Carlos Calado said, "Ironic and sad, but in some countries the imitation jewelry is worth more than the rough diamonds." Considered the queen of partido alto style, with the unmistakable timbre of her voice, she was honored by Elton Medeiros with the partido "Clementina, Cadê Você?" (Clementina, Where Are You?) and by Clara Nunes with  "PCJ, Partido Clementina de Jesus" in 1977 by the Portela composer Candeia. Rainha Ginga, Quelé, Tina, ways to of referring to Clementina de Jesus, with the imposing title of royalty and with the affectionate corruption of her name.
The low voice of the partido-alto singer Clementina de Jesus was only discovered outside her community when she was 62. Immediately acknowledged both nationally and internationally as a highly expressive singer, she still had time to participate in historic events like the Rosa de Ouro, Zicartola (at the Teatro Opinião), Noitada de Samba, and others. She has recorded and performed with artists of stature such as Nelson Cavaquinho, Turíbio Santos, Pixinguinha, João da Baiana, and many others. As a child, Clementina de Jesus listened to folkloric and religious music (jongo, partido-alto, ladainhas, etc.) sung by her mother. She remained an amateur for decades, participating in Carnaval blocos, and singing in church choirs and rodas de samba (samba get-togethers). After 20 years working as a maid, her career was launched in December 1964 by the classical guitarist Turíbio Santos at Kleber Santos' Teatro Jovem (Rio de Janeiro) in the show O Menestrel. A few months later, in 1965 when she was 63, Clementina de Jesus had her definitive public consecration after being featured in Hermínio Bello de Carvalho's musical Rosa de Ouro at the same theater. Performances, which also featured Araci Cortes, Paulinho da Viola, and Elton Medeiros, followed in Bahia and São Paulo. De Carvalho's first album was this live show, released in the same year as Rosa de Ouro, Vol. 1, followed by a second volume released two years later. On this album, Clementina de Jesus presented the virtually unknown genre of jongo with songs like "Benguelê" (Pixinguinha/Gastão Vianna) and "Boi Não Berra." She also performed sambas like "Sementes do Samba" (Hélio Cabral) and "Nasceste de Uma Semente" (José Ramos), and the lundu "Bate Canela." In August 1983 she was paid tribute by the Brazilian state government at Rio de Janeiro's Teatro Municipal. The gala event attracted many artists like Elizeth Cardoso, Beth Carvalho, Orquestra Sinfônica Brasileira, João Nogueira, Paulinho da Viola, Gilberto Gil, Dona Zica, Dona Neuma, accompanied by the bateria (percussion section) of the Mangueira samba school. In 1985 de Jesus was decorated by the French government. Also known as Quelé (a corrupted use of her name) and as Rainha Ginga (Ginga Queen), she had her majesty truly expressed through this award. 
Watch this great video documentary, recorded by TV Brasil.
By Mila Schiavo & Madalena Sousa
Share