Elis Regina was born on March 17, 1945-1982
The sound of her voice still echoes in our ears!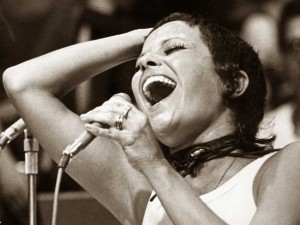 Elis Regina Carvalho Costa
popularly known as Elis Regina, was a Brazilian singer of popular and Jazz music.Before her untimely death at the age of thirty-six, she was widely regarded as Brazil's greatest living popular vocalist. She became nationally renowned in 1965, after singing "Arrastão" (composed by Edu Lobo and Vinícius de Moraes) in the first edition of TV Excelsior festival song contest, and soon joined O Fino da Bossa, a television program on TV Record. Elis was noted for her vocalization, as well as for her personal interpretation and performances in shows. She recorded several successful compositions, such as "Como nossos pais" (Belchior), "Upa Neguinho" (E. Lobo and Gianfrancesco Guarnieri), "Madalena" (Ivan Lins), "Casa no Campo" (Zé Rodrix and Tavito), "Águas de Março" (Tom Jobim), "Atrás da porta" (Chico Buarque and Francis Hime), "O bêbado e a equilibrista" (Aldir Blanc and João Bosco), "Conversando no bar" (Milton Nascimento), etc. Her premature death, at the age of 36, shocked Brazil. She has frequently been regarded as the greatest Brazilian singer of all time by critics, musicians, and commentators.
A Subtle Hurricane
Regina grew up in Porto Alegre, in the south of Brazil. She began singing professionally as a young teen, and rose to prominence after a 1965 appearance at a big music festival. She gathered a bunch of nicknames as she became popular in the 1960s; her feisty, demanding ways in the studio led some musicians to affectionately call her "Little Pepper," while her penchant for wild, gesticulating drama in live performance brought her the tag "Hurricane."
Brazilian musical culture. Serious doubt has been cast on some of Villa-Lobos's tales of the decade or so he spent on these expeditions, and about his capture and near escape from cannibals, with some believing them to be fabrications or wildly embellished romanticism. After this period, he gave up any idea of conventional training and instead absorbed the musical influences of Brazil's indigenous cultures, themselves based on Portuguese and African, as well as American Indian elements. His earliest compositions were the result of improvisations on the guitar from this period.
Villa-Lobos played with many local Brazilian street-music bands; he was also influenced by the cinema and Ernesto Nazareth's improvised tangos and polkas. For a time Villa-Lobos became a cellist in a Rio opera company, and his early compositions include attempts at Grand Opera. Encouraged by Arthur Napoleão, a pianist and music publisher, he decided to compose seriously.
Em 1956, passou a integrar o elenco fixo do programa, Clube do Guri, da Rádio Farroupilha de Porto Alegre. Em 1959, assinou seu primeiro contrato profissional com a Rádio Gaúcha também de sua cidade natal.
Em 1965, venceu o 1º Festival Nacional de Música Popular Brasileira (TV Excelsior) com "Arrastão" (Edu Lobo e Vinicius de Moraes). Dois dias depois, estreou no Teatro Paramount (SP) o show "Elis, Jair e Jongo Trio", que, gravado ao vivo, se tornou o LP "Dois na Bossa". Com sucesso do disco, ela e Jair Rodrigues estrelaram o histórico programa semanal "O Fino da Bossa".
O programa saiu do ar em junho de 1967, porém, Elis continuou ao lado de Jair Rodrigues nos três programas da série "Frente Única – Noite da MPB" (TV Record). Em dezembro, aos 22 de idade, casou-se com Ronaldo Bôscoli, 16 anos mais velho. Logo, nasceu seu primeiro filho, João Marcelo. Leia mais…
by Madalena Sousa & Mila Schiavo
Share